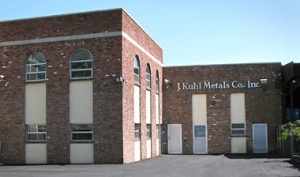 Since 1965, J. Kuhl Metals has been a leader in servicing the metal casting industry. Founder John Kuhl built the company into one of the largest buyers and sellers of non-ferrous metals and recyclable scrap in the Northeast. Now his sons, David and Robert, continue his legacy of excellence.
Our headquarters and warehouse are conveniently located in Kearny, NJ. This strategic location, just outside New York City, is close to major highways which allows us to provide swift and efficient service to our customers. With over 300 accounts varying from metal casters to mills, our diverse range of products end up in various industries including aerospace, architectural and ornamental, automotive, dairy, defense, electrical, farming, marine, mining, plumbing and transportation. Our established and extensive network of producers and consumers enables us to offer competitive pricing everyday.
Kuhl's commitment to quality and integrity has led us to develop a customer specification cross check system to ensure that material leaving our facility meets industry and customer standards. In addition, we provide consistently reliable and on time delivery with our customer management system that lets us track all shipments in route to their final destination.
Whether you are buying or selling metal, we can satisfy your requirements.